Hook-Free, Tangle-Free Molded Rubber Nets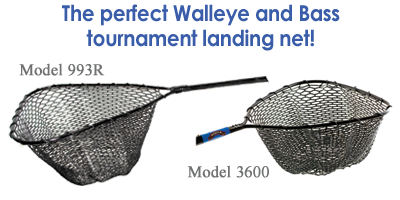 • High quality thermal plastic-rubber nets will not snag hooks or fish.
• No untangling! Terrific for Walleye and Bass tournaments.
• Model 3600 features telescopic octagonal 1-1/8″ black anodized handle with black hoop.
• Automatic push-button alignment for length adjustment.
• All 345, 356 and 360 models have 1″ round diamond-embossed aluminum handles with sturdy 1/2″ hoop. Three year guarantee.
• Model 993R features a 1-1/4″ fiberglass handle.
• Model 9800R features a 1-1/4″ octagon handle. Both have a 5/8″ reinforced hoop.
Optional
• Two-piece telescopic handle available.
• Black anodized hoop and handle – add "B" after model number when ordering.
• Clear nets are available. Add "C" after model number when ordering.